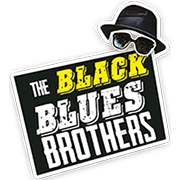 THE BLACK BLUES BROTHERS
An astonishing tribute to a cult movie

A show open to people of all ages and nationalities
A successful blockbuster sold out everywhere!


"The shiny venture of the magnificent five". This is what the famous theater critic Franco Cordelli wrote in his review on the Corriere della Sera about this show with more than 600 dates around the world and more than 300.000 spectators, including Prince Albert of Monaco and Pope Francis, who personally congratulated them after their act.

In an elegant nightclub reminiscent of the Cotton Club, following the caprices of an extravagant vintage radio that plays rhythm'n'blues music, the barman and servers transform into performers doing balancing acts, waving flags, jumping and acrobatics with fire, engaging audiences with human pyramids, limbo dancing with fire, acrobatic jumps with rope and in hoops and much more accompanied by the rousing notes of the soundtrack of John Landis' cult movie The Blues Brothers.

At the Edinburgh Fringe Festival, the most important theatre kermesse in the world, The Black Blues Brothers ended up being one of the most viewed and appreciated shows by audience and critics, with daily standing ovations from sell-out crowds and four and five stars reviews.
It was chosen as the best acrobatic theatre show at the Adelaide Fringe by the Australian newspaper The Advertiser.
The acrobats were invited at the Royal Variety Performance, the historic TV programme created by the English Royal Family, and their performance was one of the most appreciated by the public.

Between contemporary circus and musical comedy, this acrobatic theatre production, conceived by Alexander Sunny (producer of several successful shows and curator of TV specials about the Cirque du Soleil) enchanted prestigious theatres and the most relevant international festivals during a world tour that has thrilled audiences in Australia, Austria, Belgium, Czech Republic, France, Germany, Hungary, Luxemburg, Netherlands, Poland, Romania, Slovakia, Spain, Switzerland, United Arab Emirates, United Kingdom and Italy.